Those of you who loved the 2003 National Book Award Winner, Waiting for Snow in Havana: Confessions of a Cuban Boy by Carlos Eire, will be happy to note that the follow up to his memoir is due out next year. Those of you who haven't read it yet, have a chance to do so now.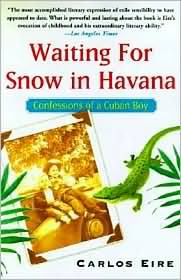 Noted religion scholar Carlos Eire's idyllic and privileged childhood in Havana came to an end in the wake of Castro's revolution. In this memoir, he reveals an exotic, magical Cuba and an eccentric family: his father – a municipal judge and art collector – believed that in a past life he had been King Louis XVI.

In 1962, Carlos Eire's world changed forever when he and his brother were among the 14,000 children airlifted off the island, their parents left behind. In chronicling his life before and after his arrival in America, Mr. Eire's personal story is also a meditation on loss and suffering, redemption and rebirth.


About Carlos Eire:
In 1962, at the age of eleven, Carlos Eire was one of 14,000 unaccompanied children airlifted out of Cuba by Operation Pedro Pan to the United States. His life until then is the subject of the 2003 National Book Award winner WAITING FOR SNOW IN HAVANA: Confessions of a Cuban Boy — a wry, heartbreaking, beautiful memoir of growing up in a privileged Havana household — and of being exiled from his own childhood by the Cuban revolution.

After arriving in the United States with his brother, Carlos Eire spent over three years in a series of foster homes in Florida and Illinois. His mother eventually joined him in Chicago, despite several obstacles placed in her way by the Cuban government. His father who died in 1976, never left Cuba.

In Chicago, Carlos worked full-time as a dishwasher, grocery clerk and factory assembler while attending high school and college. He chose a scholarly career and earned a Ph.D. at Yale University in 1979. He has taught at St. John's University in Minnesota and the University of Virginia, resided for two years at the Institute for Advanced Study in Princeton, and carried out research in Europe as a Fulbright Fellow.

CARLOS EIRE is a historian of late medieval and early modern Europe. He is the T. Lawrason Riggs Professor of History and Religious Studies at Yale University.
Author