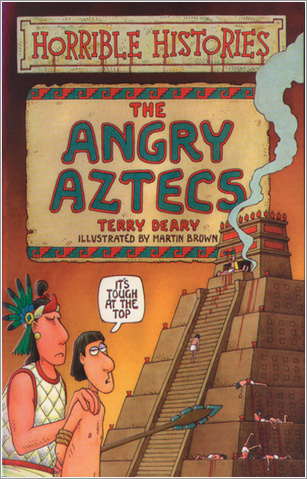 This was brought to my attention over at
www.vivirlatino.com
(yes, that's blood and corpses on that pyramid!)
Scholastic is promoting their Horrible Histories Book Series for classroom use. Now I understand trying to promote reading through the use of gross graphics and cartoonish depictions in an attempt to engage kids, but honestly do Latinos and other foreign groups really need children having these depictions encrypted into their little heads at school.
Some of the titles include:
The Woeful Second World War
The Smashing Saxons
The Ruthless Romans
Barmy British
The Incredible Incas
The Stormin' Normans
The Terrible Tudors
The Frightful First World War
The Groovy Greeks
The Slimy Stuarts
The Measly Middle Ages
The Cut-Throat Celts
The Angry Aztecs
The Gorgeous Georgians
The Awesome Egyptians
The Terrible Tudors
The Vile Victorians
The Rotten Romans
The Vicious Vikings
The Blitzed Brits
The Savage Stone Age
The Villainous Victorians
The Awful Egyptians
From the Scholastic site:
Histories: The Angry Aztecs by Terry Deary

Find out about powerful priests, weird warriors, and the cunning Conquistadors, in this book which provides the foulest facts about Motecuhzoma, Cuahtemoc and other Angry Aztecs whose idea of fun was ripping out human hearts. Part of a series of books about history with the nasty bits left in!
View product here:
http://www.amazon.com
and they even have a sticker book, Angry Aztecs Sticker Book:
http://www.amazon.com
I will be writing to Scholastic about this, and how our children might feel reading such biased books. I suggest you do to:
Scholastic
Worldwide Headquarters & Editorial Office
557 Broadway
New York, New York 10012
news@scholastic.com
Author contact:
terrydeary@btconnect.com
mailto:terrydeary@btconnect.com
Author