For the last month, I've carrying around my ARC of Impossible Motherhood: Testimony of an Abortion Addict, I haven't had a chance to finish it but I wanted to post this because I feel this is a book that should be read by every one regardless of what your stance is on abortion. As I've been reading, it's staggering how complex the issue at hand is. I find it both familiar and disturbing and upsetting yet eye-opening.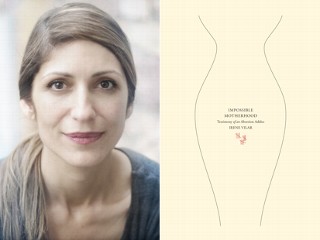 Abcnews.go.com/Health offers a lot of insight into Irene's story and background:
" Her story is a reminder that more needs to be done to educate women about the proper use of birth control and providing better access, according to Dr. Lauren Streicher, clinical assistant professor at the Northwestern University School of Medicine.
"This book really isn't about using abortion as birth control," she told ABCNews.com. "She is unconsciously sabotaging contraception for self-mutilation. It's a way of escaping feeling empty."
"It's an interesting book and she writes beautifully," said Streicher, who hosts the nationally syndicated radio show for medical professionals, Reach MD. "But by her very admission, she is a psychologically disturbed woman.""
As a Puerto Rican Latina and as a woman, I applaud Irene Vilar for coming forward with her story. I think it took tremendous courage to share her experience and her battle with issues familiar to many.
For those of you in NYC, you can attend a panel and reception for Impossible Motherhood: Testimony of an Abortion Addict by Irene Vilar at The Center for Puerto Rican Studies, Hunter College, CUNY with Tamera Gugelmeyer and Robin Morgan.
Thursday, October 8, 6:00 pm
Centro Library East Bldg. 3rd Floor
http://www.centropr.org/ or call (212) 772-5714.
Centro Events are free of charge
What people are saying:
"Irene Vilar is a writer of extraordinary passion, erudition, and intelligence"—Tobias Wolff
"Stunning. A Lyrical and visionary memoir of depression, Puerto Rican identity, and young womanhood"— Kirkus Review on "The Ladies' Gallery (starred)
"Startling, raw, and affecting, a painful exercise in which memoir as therapy becomes memoir as art"— Philadelphia Inquirer Notable Book of the Year (by Carlin Romano)
"Impossible Motherhood tells why [Irene Vilar] had 15 abortions in 16 years…How is that humanly possible in either sense of the word—the moral or the physical? In the telling, however, it seems as inevitable as sunrise…Vilar, who eventually escaped this horrid cycle to have two children, writes not to excuse, but to explain herself." —Elle Magazine
"Vilar does not mean to advocate on either side of the abortion debate; ranging far beyond the politics of abortion, her book is a controversial and intense tale of generational and national trauma…[Vilar is] a writer of brutal honesty and profound intelligence." —ForeWord Magazine
"Impossible Motherhood is like a journey into a harrowing underworld but guided by Vilar's gifts and her light we emerge in the end transformed, enlightened, and oh so alive." –JUNOT DIAZ, AUTHOR OF THE BRIEF WONDROUS LI FE OF OSCAR WAO
"I have never read a book like Impossible Motherhood, Irene Vilar's disturbing, heart-wrenching, and ultimately triumphant memoir, for the simple and understandable reason that no one of her gender has ever summoned the brutally raw, transcendent courage to write such a book–and yes, confess to such a troubling story." –BOB SHACOCHIS, AUTHOR OF EASY IN THE IS LANDS
For more information, please visit: http://www.irenevilar.com/
Author