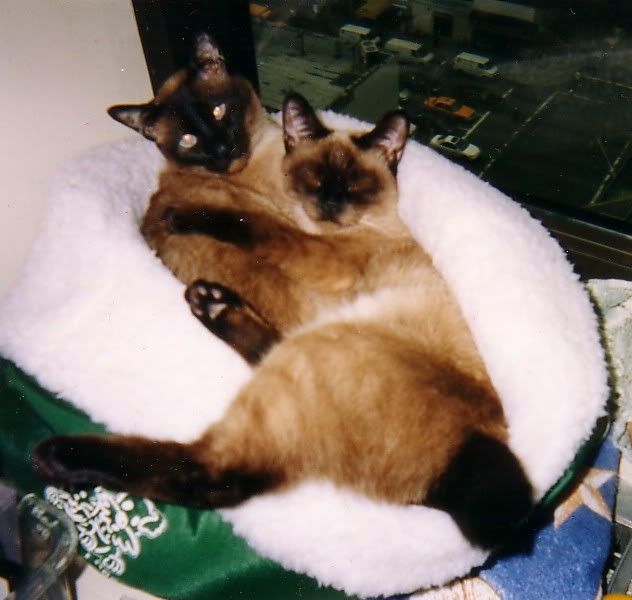 My family and I have always owned cats and a menagerie of other pets. Over 17 years ago, we rescued Polo, from abandonment. He's the one with his eyes open in the picture above, which doesn't do his dazzling blue eyes justice.
Polo was the literally the best cat ever, he never scratched, he was quiet, he was loyal. He followed me everywhere, in fact when I still lived at home, there was barely a moment when he wasn't at my side.
At some point between Christmas Eve and Christmas morning, my ailing, old, beloved Polo crept under my mother's bed and passed away. My boyfriend and I buried him last night in a wooded area near the beach.
My heart as well as my family's is absolutely broken. There will be no other, ever, like Polo. He was absolutely the best. My heart aches, it ached yesterday to put him in the cold, wet, ground, and it still aches to know I will never see his beguiling blue eyes staring into mine. I want to scream, and rage, tear my clothes off, yank my hair out! If this is how it feels to lose a loved one, a little cat, I cannot imagine the torment of losing a child, a spouse…
It hurts deeply, there is no consolation.
He was sick, and I wanted him to be at peace but now I jsut want him to be alive again and healthy and fine.
I know time will heal my ache but I wanted to honor his memory.
Rest in peace, my beautiful boy, I hope I see you again one day!
Author